Real Life – September 8, 2023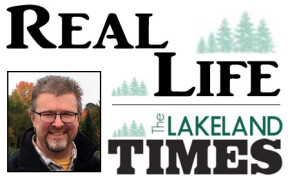 Real Life -- Lakeland Times -- September 8, 2023
Real Life with Pastor Steve
September 8, 2023
It's an acquired taste…
Green olives… caviar… strong black coffee… a dry Cabernet… country music… the art of Van Gogh… what do these all have in common?
They're all an acquired taste! Have you ever made a statement like this… "I never thought in a million years I would like ______, but now I love it!" What happened? What changed?
It seems that we're all born predisposed to certain "likes" and "dislikes," and those are compounded by our environment and culture.
People who have not had exposure to a particular food or beverage, a style of music, or a form of art don't usually acquire a "taste" for it.
Often, it's simply because it's unfamiliar; sometimes it is due to a negative experience with it. Some people never try it again… but maybe it's because they've never experienced the real thing.
Jesus was speaking on a hillside one day and he said, "blessed are those who hunger and thirst for righteousness…"
Righteousness… really? Many have tasted church… many have tried religion… could it be that's why Jesus said "righteousness" instead?
It's a taste of the real thing, something we wouldn't want based upon our background and experience, and oh yes… it's an acquired taste.
And that's … real life. ~Pastor Steve Rowe – Eaglebrook Church
Eaglebrook Church
A Non-denominational fellowship – EaglebrookMinocqua.org
Sundays 10:00 a.m. @ 1025 Margaret Street in Woodruff
715-356-3313 –