Real Life – September 2, 2022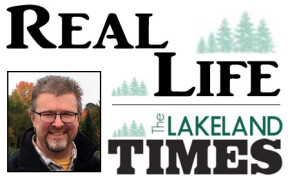 Real Life -- Lakeland Times -- September 2, 2022
Real Life with Pastor Steve
September 2, 2022
A wise person values not so much the gift … as the love of the giver. ~Thomas á Kempis
What's the greatest gift you have ever received? Who was it from? Most likely, someone you love very much. And beyond that, the love behind the gift meant even more to you. There's so much beauty in that.
As a child, many of us would put together "wish lists" for our parents for Christmas or birthdays… and we would ask… hoping… wishing… desiring a certain gift… but always knowing that they could say no. And sometimes they did… after all, a Red-Rider BB gun for a 2–year old boy will do more than just "shoot your eye out!" Ahh, the wisdom of parents.
When the giver gives from the heart of love, combined with a simple request, it is real… it is authentic… and it gives life… joy.
Well, out of his love for us, Jesus is offering broken humanity the gift of His perfect kingdom… the most precious, life giving thing we could ever experience. But He wants us to ask for it, He won't force it on people, nor does He give it by demand.
He wants to bless us with the most beautiful gift in all creation… and all we have to do is ask. And in so doing, we not only receive the gift of His kingdom, we receive the love of the Giver.
And that's…real life. ~Pastor Steve – Eaglebrook Church
Eaglebrook Church
A Non-denominational fellowship – EaglebrookMinocqua.org
Sundays 10:00 a.m. @ 1025 Margaret Street in Woodruff
715-356-3313 –