Real Life – September 16, 2022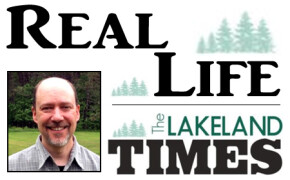 Real Life -- Lakeland Times -- September 16, 2022
Real Life with Pastor Steve
September 16, 2022
"Trust is good, but control is better." ~ Vladimir Lenin, Former Premier of the Soviet Union
We all like to be in control. It gives us a sense of security. We enjoy having choices. And, when I am the one in control, I don't really need to trust anyone but myself. It puts me in charge.
However, deep down, I suspect we all know that none of us are truly in control. While we may get to make some smaller choices along the way that give us a sense of control, there is still so much in this broken world that is out of our hands. No matter what we do, bad things can and do happen all the time. And so, while we may strive to protect ourselves and to insulate ourselves from the troubles of life, we all know that we are not in control.
In response to this sense of helplessness, we have religion. Much of religion is an attempt to gain a degree of control in an uncontrollable world. We are often told that if we do things correctly (by following the right rules, etc.) that God will then protect us and do what we ask Him to do. But notice… this is just another form of us wanting to be in control. This is the opposite of trust.
But the Good News is that, into this chaos, instead of offering us a religion, God invites us to put our trust in Him. Because, while we are not in control, God assures us that He is. And while this world is indeed severely broken, God has already taken action to set things right. And that is Good News, indeed. And that's… real life. ~ Arnie Boedecker, Associate Pastor – Eaglebrook Church
Eaglebrook Church
A Non-denominational fellowship – EaglebrookMinocqua.org
Sundays 10:00 a.m. @ 1025 Margaret Street in Woodruff
715-356-3313 –