Real Life - September 10, 2021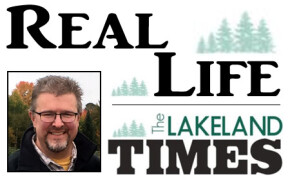 Real Life -- Lakeland Times -- September 10, 2021
Real Life with Pastor Steve
September 10, 2021
"I would rather teach one man to pray than ten men to preach." ~ Charles Spurgeon, British pastor
Prayer… isn't that just something that the priest or the clergy does for me? Isn't it something really "religious" people do? Don't you have to use special words? Isn't prayer just a psychological/spiritual crutch to help one deal with the discouragements in life?
Isn't prayer something uncommon… out of the ordinary… kind of "weird"… only something that a few people really get anything out of?
The answer to all those questions is… NO. You see, humanity was created to interact with their Creator God. Adam & Eve got to talk directly to Him and be in His presence, unhindered by sin.
Regardless of how hard it has become to talk with God after the fall-of-man in the Garden, we still have the capacity to interact with our Creator. The problem is… this virus… this weight of our sinfulness gets in the way. It blinds us. It makes us think that only "special" people can do it, that only a few should even try.
But when Jesus came, He made it possible for anyone to come to the Father. It's an open invitation, because prayer… is a gift for you. Maybe it's time to re-introduce yourself. And that's …real life. And that's… real life. ~ Pastor Steve Rowe – Eaglebrook Church
Eaglebrook Church
A Non-denominational fellowship – EaglebrookMinocqua.org
Sundays 10:00 a.m. @ 1025 Margaret Street in Woodruff
715-356-3313 –