Real Life - October 6, 2017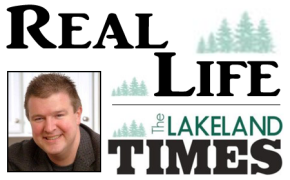 Real Life -- Lakeland Times -- October 6, 2017
Real Life with Pastor Steve
October 6, 2017
No act of kindness is too small. The gift of kindness may start as a small ripple that over time can turn into a tidal wave affecting the lives of many. ~ Kevin Heath, CEO, More4Kids
Human beings were originally created to be kind… to have a kind heart… to speak kind words. However, through Adam & Eve's sin this can be a very "unkind" world… an unforgiving world. Kindness is in short supply.
But even in the midst of all the "unkindness" we see and hear… when you look across humanity, there is still a spark of what God originally placed with us. There are examples all over our world even today. Kindness is not dead.
However, it is on life-support, and Jesus came to turn that little spark of kindness, and turn it into a flame. But not religiously, not to turn it into a task to check off our list… Jesus came to change our hearts and recreate us into a people who are… well… kind… from the inside out.
Quite often, kindness is not the first word you think of when you think of a "Christian." Usually, it's someone who's mean, critical, condescending, self-righteous, and basically, "unkind." But one of the hallmarks of Christ-in-us, is supposed to be kindness. So may we be kind, start small… and see where the ripples go. And that's …real life. ~Pastor Steve Rowe – Eaglebrook Church
Eaglebrook Church
A Non-denominational fellowship – EaglebrookMinocqua.org
Sundays 10:00 a.m. @ 1025 Margaret Street in Woodruff
715-356-3313 –