Real Life – October 20, 2023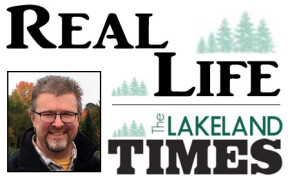 Real Life -- Lakeland Times -- October 20, 2023
Real Life with Pastor Steve
October 20, 2023
The shepherd drives the wolf from the sheep, for which the sheep thanks the shepherd as his liberator… while the wolf denounces him for the same act as the destroyer of liberty. Plainly, the sheep and the wolf are not agreed upon a definition of liberty. ~ Abraham Lincoln
How true that is! So the question is… who do you trust more… the shepherd… or the wolf? Who has the best interest of the sheep at heart?
Let's dig a bit further by looking at intent and motive. The wolf's motives are to either steal… kill… or destroy. It is entirely selfish, and the sheep are it's target.
The Shepherd loves his sheep, and would willingly stand in the way to protect them… to give them life.
It's not surprising then that Jesus identifies Himself as the "Good Shepherd." We can trust Him, He has our best interest at heart. He is the embodiment… the epitome of goodness… the very definition in the flesh.
Jesus then said that there is a "wolf" out there, a "thief" who comes to steal, kill, and destroy… basically, to keep perpetuating the effects of this fallen world on into the future.
However, Jesus said He came to give life, and life more abundantly… to restore what was lost at Eden… as both the Shepherd and the Gate.
And that my friends, gives us hope. We can trust this "Good Shepherd." And that's … real life. ~Pastor Steve Rowe – Eaglebrook Church
Eaglebrook Church
A Non-denominational fellowship – EaglebrookMinocqua.org
Sundays 10:00 a.m. @ 1025 Margaret Street in Woodruff
715-356-3313 –