Real Life - October 13, 2017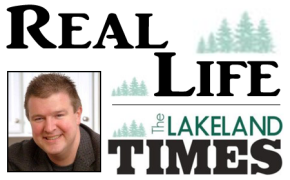 Real Life -- Lakeland Times -- October 13, 2017
Real Life with Pastor Steve
October 13, 2017
We're going to irritate each other from time to time, the keys to dealing with that are patience, forbearance, and forgiveness ~ The Apostle Paul to the Colossians (paraphrase)
Have your ever realized just how annoying or irritating some people can be? I mean… over the top sometimes. We have a tendency to get under each other's skin… even the best of us.
Honestly, any of us are capable of a bad day, and innocent people get caught in the tsunami. It's not an excuse… it's just that it happens from time to time. And if we are really honest, we are just as irritating and annoying to others.
So… how do we deal with that? Marriages end over this, churches divide over it, countries go to war over it… and radio talk shows make millions in capitalizing on it. It's an ongoing problem as part of a broken, fallen world. Which means that we either learn better ways to deal with it… or we will continue to repeat the same patterns we've always done… bailing out, dividing, or fighting.
Folks… we are going to irritate each other from time to time. But the scriptures give us an alternative… one that resembles the image of God… one that shows grace, and bears with, and offers forgiveness. What would happen if we began to live that way? And that's …real life. ~Pastor Steve Rowe – Eaglebrook Church
Eaglebrook Church
A Non-denominational fellowship – EaglebrookMinocqua.org
Sundays 10:00 a.m. @ 1025 Margaret Street in Woodruff
715-356-3313 –