Real Life - November 6, 2020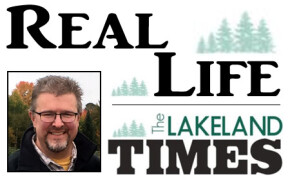 Real Life -- Lakeland Times -- November 6, 2020
Real Life with Pastor Steve
November 6, 2020
"There is a difference between knowing the path and walking the path…" ~ Morpheus, from the film "The Matrix"
There is a difference between knowing the right thing to do, and actually doing it. This distinction can become even murkier when we begin to justify our own actions, or convince ourselves that the path we are currently on will somehow lead us to where we want to go, even when it won't! We fool ourselves into thinking that we can have "just one more helping", but somehow still lose weight. We assure ourselves that we can spend that silly amount of money now, and still pay our bills at the end of the month. We convince ourselves that the path that we want to take will somehow get us to where we want to go.
But, while we can choose which path we will take, we do not get to choose where that path will lead us. Once we choose the path, that also determines where we will end up.
When Jesus says to His disciples, "follow me", He was not just asking them to believe something… He was inviting them to live a certain way. All-too-often, religious people fall into thinking that "salvation" is just about having a set of beliefs, when in reality, salvation is about a way of life.
And that's… real life. ~ Arnie Boedecker on behalf of Pastor Steve Rowe – Eaglebrook Church
Eaglebrook Church
A Non-denominational fellowship – EaglebrookMinocqua.org
Sundays 10:00 a.m. @ 1025 Margaret Street in Woodruff
715-356-3313 –