Real Life - November 27, 2020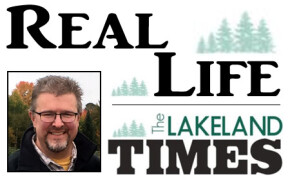 Real Life -- Lakeland Times -- November 27, 2020
Real Life with Pastor Steve
November 27, 2020
"What you see depends not only on what you look at, but also, on where you look from." ~ James Deacon
We have all likely gone through certain experiences that have changed us forever. New experiences often change who we are. New information can change how we think or how we see things.
As a child, I grew up enjoying McDonald's hamburgers… but I will never forget the first time I had a "real" hamburger at a fancy restaurant. Sometimes, once you experience something "new", there is no going back. It changes you forever.
Many of the stories found in the Bible are exactly that… a recording of events or experiences that changed someone forever. All too often, we think the Bible is a sort of an "answer book" telling us all the right answers about God. The Bible does tell us many things about God, but more often than not, the Bible is not simply supplying answers… it is wrestling with surprises. Again and again, it seems to challenge our assumptions and wants to call us forward, showing us something new.
There is always something more to learn, especially when it comes to God. And, the Bible is not there simply to inform us, but to surprise us, and even shock us… to show us something new, that will change us forever.
And that's… real life. ~ Arnie Boedecker on behalf of Pastor Steve Rowe – Eaglebrook Church
Eaglebrook Church
A Non-denominational fellowship – EaglebrookMinocqua.org
Sundays 10:00 a.m. @ 1025 Margaret Street in Woodruff
715-356-3313 –