Real Life - November 26, 2021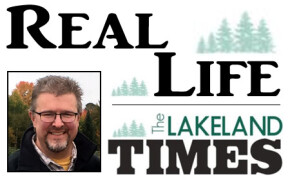 Real Life -- Lakeland Times -- November 26, 2021
Real Life with Pastor Steve
November 26, 2021
Give thanks to the Lord, for He is good. His love endures forever! Psalm 106:1
There are two approaches to life… giving… or … taking/withholding. One approach leads to joy, fulfillment, life, and freedom. The other approach leads to discontentment, frustration, control, and manipulation.
I've always found it interesting that the encouragement in scripture is to "give" thanks. It is not something we are to withhold. It is an act of the will, not based upon emotions or circumstances. It is based on the reality that the Lord is "good", and that His love never ends. That's a pretty good reason to "give" thanks.
Showing gratitude toward others has that same idea. We should give it… rather than withhold it. May we learn to be more grateful for the people in our lives… expressing our gratitude for them… rather than always expressing frustration or disappointment. Choose to bless someone.
This Thanksgiving season, may you resist the urge to withhold thanks. May you resist the urge to be discontent. And may you choose a posture of giving. May you give thanks, first to the Lord. Then may that carry over into expressing gratitude and thanks to many of those around you. Happy Thanksgiving, Northwoods! I am thankful for you! And that's … real life. ~ Pastor Steve Rowe – Eaglebrook Church
Eaglebrook Church
A Non-denominational fellowship – EaglebrookMinocqua.org
Sundays 10:00 a.m. @ 1025 Margaret Street in Woodruff
715-356-3313 –