Real Life - November 13, 2020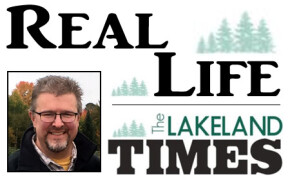 Real Life -- Lakeland Times -- November 13, 2020
Real Life with Pastor Steve
November 13, 2020
Each person has the potential to make a positive impact on the world. It all depends on what you do with what you have. ~ Dr. Gary Chapman
God hard wired us to leave a lasting, positive legacy… a positive impact. The question is… will we? Or will we be satisfied with merely existing? Maintaining the status quo?
Positive legacies and impacts can take all shapes and sizes, and none are more important than others. A kind word… loving your kids well… loving your spouse well… using your gifts and talents to serve others. Those are great ways.
Becoming a foster parent. Adopting from the foster care system… it comes at a cost, but it is potentially game changing for those children.
Volunteering in your children's ministry or youth ministry. Serving or contributing financially to life-giving, people affirming organizations… like the Lakeland Pantry, Caritas, or New Dawn Pregnancy Resource Center… stretching yourself to help those in challenging situations.
Jesus came into a fallen world to make the most positive impact and leave a lasting legacy. And He paved the way for us to continue it. He invites us to bring His light, His hope, His love into everyday life. You can make a difference… a positive impact. It just starts by using what you have. And that's …real life. ~ Pastor Steven Rowe – Eaglebrook Church
Eaglebrook Church
A Non-denominational fellowship – EaglebrookMinocqua.org
Sundays 10:00 a.m. @ 1025 Margaret Street in Woodruff
715-356-3313 –