Real Life - November 1, 2019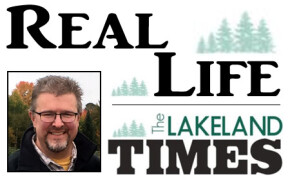 Real Life -- Lakeland Times -- November 1, 2019
Real Life with Pastor Steve
November 1, 2019
You have to admit… there's just nothing like… the smell of something new.
My wife is a "baby sniffer." She loves to sniff new babies because of that baby smell. I know she's not alone. There's just something about the smell of something new. A new car… a new baby… a new crisp dollar bill… a new house… a newly opened bottle of a great Napa or Sonoma Cabernet… a new culinary creation from your kitchen. And those are just a few examples.
Because… let's be honest. Not everything smells good. Some smells are quite bad. Old, decaying trash… one word… bad. Junior's breath if he does not brush his teeth… bad.
But things that smell good… like the flowers blooming in spring… make us take notice. They point to the good things in life. Things worth celebrating. Well… that's how the Apostle Paul describes how followers of Jesus are to be in this world. We are to "smell good"… giving off the aroma of Christ. And the reason why, he says, is that we are ministers of a "new" covenant. Something new… that should be people take notice. It should point to the good things in life, something to be celebrated. So… may we not live "stinky" lives… being intentionally offensive wherever we go. Instead , may we … as "new creations" … smell "good" to this world… bringing life wherever we go. And that's …real life. ~ Pastor Steven Rowe – Eaglebrook Church
Eaglebrook Church
A Non-denominational fellowship – EaglebrookMinocqua.org
Sundays 10:00 a.m. @ 1025 Margaret Street in Woodruff
715-356-3313 –