Real Life - May 24, 2019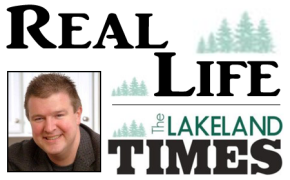 Real Life -- Lakeland Times -- May 24, 2019
Real Life with Pastor Steve
May 24, 2019
Is this made of the "right stuff?" – common question for an engineer.
The "Right Stuff." No… not the movie made back in the 80's about the American space program. No… not the song made popular by Donnie Wahlberg and the New Kids on the Block in 1988 (although I can still hear that song coming from my sister's room to this day!).
This has to do with materials. Engineers want to make sure that the materials they use will be the "right stuff" to withstand the specific use or environment they will be in. If not, the product will come apart, or worse yet, be destroyed. The right stuff ensures that the product will be successful, and reach its fullest potential.
The Apostle Paul made a similar statement regarding humanity. In our current state, we have a bit of a design flaw… not in our original design though. It was brought on by Adam & Eve's choice, their sin, in the Garden of Eden. But that "flaw" of death has been passed down - tainting everything we do, everything we are…, and humanity no longer has the "right stuff" to carry out our original design, our full potential. It also keeps us from being able to stand in God's perfect presence. Jesus came to correct all that… to remove the virus… to give us life, and to give us the "right stuff," both for now, and for eternity. Reclaim your purpose! And that's … real life. ~ Pastor Steve Rowe – Eaglebrook Church
Eaglebrook Church
A Non-denominational fellowship – EaglebrookMinocqua.org
Sundays 10:00 a.m. @ 1025 Margaret Street in Woodruff
715-356-3313 –