Real Life – May 20, 2022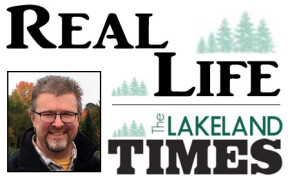 Real Life -- Lakeland Times -- May 20, 2022
Real Life with Pastor Steve
May 20, 2022
There is no "I" in "Team"… words spoken by every coach I've ever had.
We live in a world where athletics often mirrors the attitudes of people in society. It's become a "solo" game, all about padding your own stats, all about being the star, all about "me"… my agenda, etc. And as long as the "I" shines, as long as the individual accomplishes their goal… as long as the "I" is happy… then nothing else seems to matter. But… eventually… when too many "I's" start vying for power or position… someone has to lose. The "me, myself, and I" attitude quickly degenerates into disaster.
Which is why… coaches have been trying to teach basic human life skills for decades. There is no "I" in team. And you need a team to ultimately be successful in nearly every area of life. To be a team, you have to learn to be self-less… to honor others… to support others… to share the spotlight… to be a good teammate.
The Christian life is meant to operate the same exact way… as a team. And in Paul's letter to the Philippians… he lists two incredible team-mates –a guy named Epaphroditus, another one named Timothy. They helped others succeed, including Paul himself, even to their own peril at times. Character, honor, sacrifice, humility. May we re-learn how to be good teammates. And that's …real life. ~ Pastor Steve – Eaglebrook Church
Eaglebrook Church
A Non-denominational fellowship – EaglebrookMinocqua.org
Sundays 10:00 a.m. @ 1025 Margaret Street in Woodruff
715-356-3313 –