Real Life – May 12, 2023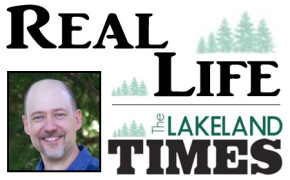 Real Life -- Lakeland Times -- May 12, 2023
Real Life with Pastor Arnie
May 12, 2023
"When you pay attention to detail, the big picture will take care of itself." ~ George St-Pierre, Canadian actor and former athlete
In our American Culture, it seems we all want to do big things --"Bigger is better", the saying goes. We seek to invest our time and energies into the things that have the greatest impact. We desire to host huge events that draw as many people as possible. It seems that whatever generates the most clicks or gains the most followers, that is what we devote our attention towards.
However, the Bible is repeatedly reminding us that while the "big things" certainly matter, so do all of the "small things". God cares about all of humanity, but He cares about you individually. Everything matters to God, both big and small.
In the same way, while we should certainly be concerned about the big issues in our world, and give careful thought to those decisions that will shape the bulk of our lives – (who we marry, how we raise our kids, what we do for a living, and where we live) -- we must also remember to direct our attention to all of the smaller everyday decisions that we make as well. What will we say "yes" to today? What will we say "no" to today? How will we choose to spend our time, and with whom? As a family, will we choose to be on our individual devices, or will we choose to do something together? Choices matter.
So, may we see that the smaller everyday decisions we make are often what determines the shape of the larger issues in our lives. The "big things" certainly matter, but so do all of the smaller things. So, choose wisely! And that's… real life. ~ Arnie Boedecker, Associate Pastor – Eaglebrook Church
Eaglebrook Church
A Non-denominational fellowship – EaglebrookMinocqua.org
Sundays 10:00 a.m. @ 1025 Margaret Street in Woodruff
715-356-3313 –