Real Life - March 9, 2018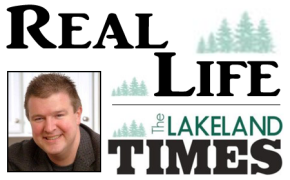 Real Life -- Lakeland Times -- March 9, 2018
Real Life with Pastor Steve
March 9, 2018
"When you find yourself at a loss for words, play a song." ~ author unknown
Language can be so limiting. I can speak of my love for pizza, and also of my love towards my family. However, what I mean by "love" in each case is intended to convey something very different. Love can refer to something relatively small, and it can also refer to something far bigger than words could ever capture.
We say one thing, but mean another. We try to say what we mean, but we are heard to say something else. Communication is hard, and to fully understand each other, we must constantly keep digging and clarifying.
When it comes to the most important things in life… words will always come up short. As our hearts overflow, we will always struggle to find the words to capture what cannot truly be explained. We do our best to articulate and to define, but sometimes, words are far too limiting. And so, when words run out… we sing, or cry, or paint, or laugh. We try our best to use words… but we are referring to something far greater… something beyond the words.
As I read the Bible, I sense that this is the experience of those who wrote the Scriptures. They are often grasping for words, trying to describe the indescribable.
So, yes, we must start with the words. Words are what we have. But, we must realize that, when it comes to the things of God, words will never be enough. Yes, we must keep digging, but to fixate on the words alone will always be far too limiting. May we fix our gaze on that which lies beyond the words. And that's…real life. ~ Arnie Boedecker on behalf of Pastor Steve Rowe – Eaglebrook Church
Eaglebrook Church
A Non-denominational fellowship – EaglebrookMinocqua.org
Sundays 10:00 a.m. @ 1025 Margaret Street in Woodruff
715-356-3313 –