Real Life - March 8, 2019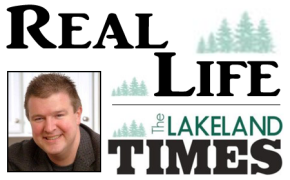 Real Life -- Lakeland Times -- March 8, 2019
Real Life with Pastor Steve
March 8, 2019
Alone we can do so little, together we can do so much. ~ Helen Keller
As a human race, we can be a pretty self-sufficient bunch can't we? Where we try to tackle life on our own, without help, feeling like we've got everything we need. But the truth is… we do not have everything we need for this journey called life. We need others.
When we live and operate alone and apart from integrated connections with others, not only can we not fulfill our own potential… others miss out on our contributions. We need each other.
That is true for life in general, families, sports teams, business teams and educational cohorts… but it is especially true within the life of a faith community or a church family. People are gifted in such different ways. They bring so much to the table. Everyone is valuable. As we see that, and as we begin to live that out, the result is so worth it! It is like a fine-tuned orchestra playing a symphony, as each person plays their part.
The Apostle Paul said it this way to the Corinthians… "The eye cannot say to the hand, "I don't need you!" And the head cannot say to the feet, "I don't need you! As it is, there are many parts, but one body." Truly… alone we can do so little, but together we can do so much.
And that's … real life! ~ Pastor Steve Rowe – Eaglebrook Church
Eaglebrook Church
A Non-denominational fellowship – EaglebrookMinocqua.org
Sundays 10:00 a.m. @ 1025 Margaret Street in Woodruff
715-356-3313 –