Real Life – March 3, 2023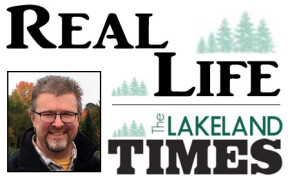 Real Life -- Lakeland Times -- March 3, 2023
Real Life with Pastor Steve
March 3, 2023
If you give a man a fish, you feed him for a day. If you teach a man to fish, you feed him for a lifetime. ~ Famous quote
Many of you have heard this quote before. It speaks of two things. One, it speaks of a heart that shows mercy, especially in times of crisis or emergency. Just give them a "fish." That is called compassion. But it's only part of the whole picture. Next, you come alongside people to empower them, equip them. That way, once the crisis is over, they have the tools, skills and training necessary to flourish and be successful.
Mercy, compassion… coupled with equipping and empowering. It is a powerful combination. It is the example that Jesus gave us.
Well, that's the kind of guy we have coming to speak this coming Sunday. His name is Don Buege, and he has spent his life helping others, along with empowering others. And he has done so around the world. His greatest joy is to see others carrying out the love of Jesus to other people, in their own cultural context and communities.
So, may you be encouraged today … to find joy in helping others succeed. Find joy in helping others when they need it. And find joy as you empower and equip them to be successful moving forward. And that's…real life. ~ Pastor Steve – Eaglebrook Church
Eaglebrook Church
A Non-denominational fellowship – EaglebrookMinocqua.org
Sundays 10:00 a.m. @ 1025 Margaret Street in Woodruff
715-356-3313 –