Real Life - March 1, 2019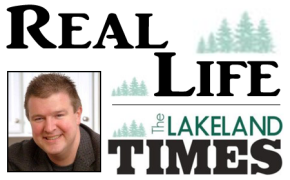 Real Life -- Lakeland Times -- March 1, 2019
Real Life with Pastor Steve
March 1, 2019
We can choose to see the blessings of life either as our right, or as a gift of grace.
The results of that choice could not be more different. The first choice results in a life of arrogant entitlement… and in many cases… a complete and utter abuse of that blessing. The second choice results in a life of humble gratitude… a life that wants to be a good steward of that grace. Because they see that blessing as not only something precious... but directly from the hand of God Himself.
That applies to so many things across a wide spectrum, and maybe that's the greater issue. If we take God out of the picture, we immediately become more selfish and self-focused… seeing everything through our own point of view. Which is why then people fight to "get what's theirs"… or to keep others down to "keep what's theirs." It is a travesty.
Which is why… when you put God back in the picture… when you put Jesus back to where He belongs… things get completely refocused. We can have a diversity of blessings and gifts without feeling threatened by the other. We appreciate our own, and we celebrate the gifts of others. And as the Apostle Paul says, as we each do that… as good stewards of our individual gifts & blessings… it results in the best collective good.
And that's … real life! ~ Pastor Steve Rowe – Eaglebrook Church
Eaglebrook Church
A Non-denominational fellowship – EaglebrookMinocqua.org
Sundays 10:00 a.m. @ 1025 Margaret Street in Woodruff
715-356-3313 –