Real Life - June 21, 2019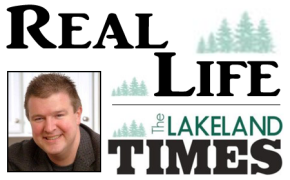 Real Life -- Lakeland Times -- June 21, 2019
Real Life with Pastor Steve
June 21, 2019
The worldly man treats certain people kindly because he 'likes' them: the Christian, trying to treat every one kindly, finds himself liking more and more people as he goes on - including people he could not even have imagined himself liking at the beginning.-- C.S. Lewis
It's easy to treat people well if you like them… accept them… agree with them… and are not appalled by them. But what about those that we do not agree with? How do you treat those people?
What about those you don't like… who just rub you the wrong way… or… those who literally just disgust you. How do you treat those people? What about those who cannot, or will not do anything in return for you? In other words… how do you treat people who cannot pay you back?
Whether we realize it or not, all of us struggle with two things from time to time… 1) pride, and 2) conditional love. At the root of choosing who deserves our "niceness," is the element of pride… we feel "better" than them.
Jesus speaks to the root of that and says… "no, you're not." And therefore we are to show His love, unconditionally to people, even when there's no payback. It's what He did for us. It's called humility. May we recapture that in our lives today…. And that's … real life. ~ Pastor Steve Rowe – Eaglebrook Church
Eaglebrook Church
A Non-denominational fellowship – EaglebrookMinocqua.org
Sundays 10:00 a.m. @ 1025 Margaret Street in Woodruff
715-356-3313 –