Real Life - June 14, 2019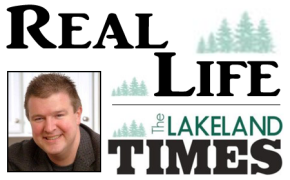 Real Life -- Lakeland Times -- June 14, 2019
Real Life with Pastor Steve
June 14, 2019
"God's gifts put man's best dreams to shame. ~Elizabeth Barrett Browning
I love to give gifts to my kids. I love to surprise them with little toy if I've been a way for a while, or simply say "yes" to that day-long request to go get Ice Cream.
I love to give gifts to my wife, too. Those are usually more expensive, and usually have to do with a surprise night out for dinner.
We can think of a lot of "perfect" gifts for those we love, we often go looking for the "best" gift we can find, because it shows them how much we care, how much they mean to us.
Have you ever stopped to think of the kinds of gifts that God… as our Heavenly Father… wants to give to us? Quite often people think of God as a "grumpy old man" with a bit of a judgmental temper. But Jesus tells us of His compassion, His love, His desire to give good gifts to His children. Let me ask you, do the people you love have to work for your gifts… try to earn them from you? No way, right? Well, it's the same way with God. His gift of Love, His Presence, even salvation are offered to you as gifts. You don't have to earn it… you don't have to work for it. It's His gift to you. On this Father's Day weekend, may you reconnect with your Good, Good, Heavenly Father! And that's …real life. And that's … real life. ~ Pastor Steve Rowe – Eaglebrook Church
Eaglebrook Church
A Non-denominational fellowship – EaglebrookMinocqua.org
Sundays 10:00 a.m. @ 1025 Margaret Street in Woodruff
715-356-3313 –