Real Life – July 8, 2022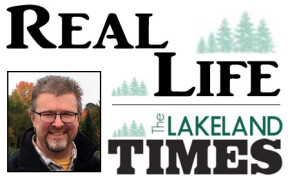 Real Life -- Lakeland Times -- July 8, 2022
Real Life with Pastor Steve
July 8, 2022
Light gives of itself freely. It does not seek anything in return; it asks not whether you are friend or foe. It gives of itself and is not thereby diminished. ~Michael Strassfeld, American Rabbi
I've never really thought about it that way before. Light just "is," it shines, it illuminates, it offers its assistance to help us see.
When the sun comes up in the morning, everyone in its beam has the potential to receive its benefits… the sun is indiscriminate… it doesn't just shine on the "good people" or the people who "deserve it."
Light gives its assistance to anyone who wants to receive it… it gives because that's what it does. This morning I was trying to re-attach a piece of rubber trim underneath the front of my car, but the garage was dark and even the overhead lights were of no use.
So I found the nearest flashlight, and the light "assisted" me by illuminating the darkness so I could see… and the piece was re-attached. If at any point, the light became too glaring or blinding… it would have ceased to be helpful.
Two thousand years ago, Jesus told His followers that they were the "light of the world… a city on a hill." He didn't mean for us to be "glaring" or obnoxious to others. I think He meant… selfless… giving… loving. And that's …real life. ~ Pastor Steve – Eaglebrook Church
Eaglebrook Church
A Non-denominational fellowship – EaglebrookMinocqua.org
Sundays 10:00 a.m. @ 1025 Margaret Street in Woodruff
715-356-3313 –