Real Life - July 5, 2019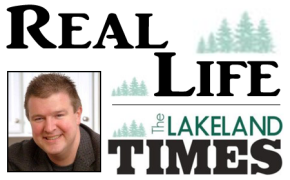 Real Life -- Lakeland Times -- July 5, 2019
Real Life with Pastor Steve
July 5, 2019
"I did it my way." ~ Frank Sinatra
Who hasn't sung along with ol' Frank, or maybe Elvis Presley as they crooned their way through that song?
At first the lyrics seem innocent enough, even admirable. But in reality, it speaks of a deeper issue… a desire to just be in charge of your own destiny… to be the captain of your own ship.
A lot of people try it… it is so enticing… doing life "my way." Nobody telling me what to do, nobody interfering, nobody correcting me… total freedom… who wouldn't want that?
But there's another reality at play here. We may be free to do what we want, but we are not free from the consequences. In truth, we can't really have it "my way." Eventually, we have to play by a bigger set of rules.
That's when the shock hits, the glance back at the trail left behind, of people hurt, relationships broken, chances wasted. Is there life after "my way?" To answer that, look no further than the Prodigal Son, as told by Jesus. He did it his way, broke his father's heart, lost everything, and came home humbled. But his father… ran to him… forgives him, and restores him. Our heavenly Father does the same for us. On this Fourth of July Weekend, may we lay down "our way"… and come back home to the Father!
And that's … real life. ~ Pastor Steve Rowe – Eaglebrook Church
Eaglebrook Church
A Non-denominational fellowship – EaglebrookMinocqua.org
Sundays 10:00 a.m. @ 1025 Margaret Street in Woodruff
715-356-3313 –