Real Life - July 31, 2020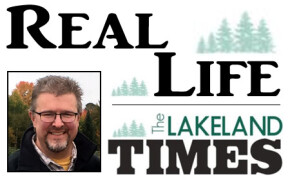 Real Life -- Lakeland Times -- July 31, 2020
Real Life with Pastor Steve
July 31, 2020
Do not mistake God's silence for God's absence.
There are those special seasons in life when God seems so very near to us, when His Presence seems so tangible. These moments are priceless. But, as I am sure we can all attest to, there are also times when God seems to be distant. And to make things worse, God often seems to go missing during those very moments when we feel like we need Him the most. Which in turn leads to all kinds of other questions. If God seems distant when I need Him the most, is this God still good and loving? Is He still trustworthy?
For many people, it may come as a surprise that the Scriptures are fully aware of this tension. Throughout the Bible, the writers ask questions like, "God, why do you leave me in times of trouble?" and "How long, O Lord? Will you forget me forever?" Feeling the absence of God is not something that the Bible tries to deny or sidestep… it is an issue that the Bible confronts head on.
But what the Bible also makes unmistakably clear is that, while it may seem like God is absent or distant at times… the reality is that this is a God who always present and who is always at work. While we may not always hear His voice or feel His closeness, or understand His timing, God is always near to us. And, in light of this, we called to trust.
And that's… real life. ~ Arnie Boedecker on behalf of Pastor Steve Rowe – Eaglebrook Church
Eaglebrook Church
A Non-denominational fellowship – EaglebrookMinocqua.org
Sundays 10:00 a.m. @ 1025 Margaret Street in Woodruff
715-356-3313 –