Real Life - July 27, 2018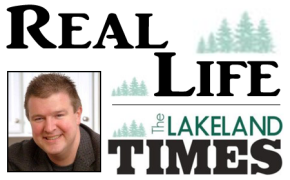 Real Life -- Lakeland Times -- July 27, 2018
Real Life with Pastor Steve
July 27, 2018
However hard we may try to make peace with some people (or show love to them), some refuse to live at peace with us. Not all attempts at reconciliation succeed. ~ Scholar, John R. Stott
Rejection is a very real possibility. It hurts, and it feels personal. However, Jesus would tell us… extend peace & love anyway. Worse yet, is that after all you may do to show love and peace, and both offer forgiveness, and ask for forgiveness… some may choose to respond with hatred, bitterness, slander, maybe even violence… or to summarize it with one word – persecution.
This can happen within any of our relationships, personally or professionally. It can also happen simply because of your identification with Jesus.
Our question is this… how should we respond? John Stott asks, should we, "retaliate in kind… sulk like a child… lick our wounds in self-pity… just try to grin and bear it like a Stoic… or even pretend to enjoy it like a mashocist?" The answer, as he points to Jesus, is absolutely not.
We are called to continue to hunger and thirst for righteousness, to show mercy, to live out of a pure heart. We are called to continue to respond in love, and with peace. … in the face of rejection, in the face of persecution. To which Jesus calls us blessed, because in those moments we are most reflecting Him. This world desperately needs it. And that's…real life. ~Pastor Steve – Eaglebrook Church
Eaglebrook Church
A Non-denominational fellowship – EaglebrookMinocqua.org
Sundays 10:00 a.m. @ 1025 Margaret Street in Woodruff
715-356-3313 –