Real Life - July 16, 2021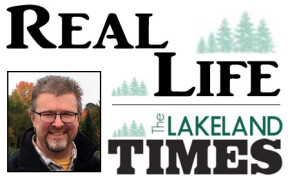 Real Life -- Lakeland Times -- July 16, 2021
Real Life with Pastor Steve
July 16, 2021
What is growing in the "garden of your life"… weeds or good fruit?
The growing season in the Northwoods may be short and sweet, however, it often brings out the inner gardener in many of us. The harsh winter usually reveals what needs to be done. So, off we go to make a plan.
But what if our plan was something like this… What if someone asked us… "hey, what are you going to grow in your garden this year?" And we say, "I'd like roses this year!" "Well, have you planted any yet?" "Nope." "Are you going to?" "Nope… just hoping, because I'd really like roses this year."
If that was our response, that's not much of a plan. At the very least we would need seeds, or a small plant that we could begin to cultivate. In other words, it requires actually having a rose bush in the garden that will reproduce more "fruit," more roses along the way.
See, fruit does not come by wishful thinking, or hoping. And the same thing is true in the overall "garden of our lives. If we want fruit like love, joy, peace, patience, kindness, and self-control, then we need the seeds, the root system, the tender care, the watering to make it happen. In other words, we need God's Spirit in our lives.
Let's get rid of the weeds, and let's start growing some good fruit! And that's… real life. ~ Pastor Steve Rowe – Eaglebrook Church
Eaglebrook Church
A Non-denominational fellowship – EaglebrookMinocqua.org
Sundays 10:00 a.m. @ 1025 Margaret Street in Woodruff
715-356-3313 –