Real Life - July 12, 2019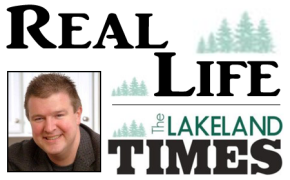 Real Life -- Lakeland Times -- July 12, 2019
Real Life with Pastor Steve
July 12, 2019
If he's going to be there, then I don't want to be there! ~ The 'older brother' – Luke 15, paraphrase
Have you ever felt that toward someone? Ya know, when that annoying relative plans on being at a family gathering, you might just have something else to do that day, right? But quite often those feelings aren't as benign. They reveal a depth of resentment, anger, hostility, maybe even outright hatred.
Maybe it's a former friend who betrayed you… or a person of less-than-perfect morals… or it's a person of a particular race or background or social status. All you know, is that if they are there… if people like "them" are there… then you want no part of it.
The elder brother in the story of the prodigal son felt just like that. His dad threw a party for his rebellious younger brother, who repented and came home. And big brother… he didn't approve. He had followed all of dad's simple rules… even made up a few of his own. He had outwardly honored dad and the family.
However, his heart was actually further away from his father than the younger brother's heart ever was. That's what religion can do. But ya know what? The father still loved him and wanted him at the party too. The question is… would he come in?
And that's … real life. ~ Pastor Steve Rowe – Eaglebrook Church
Eaglebrook Church
A Non-denominational fellowship – EaglebrookMinocqua.org
Sundays 10:00 a.m. @ 1025 Margaret Street in Woodruff
715-356-3313 –