Real Life – January 13, 2023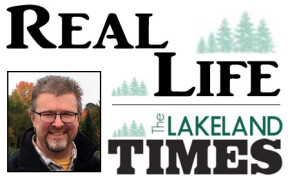 Real Life -- Lakeland Times -- January 13, 2023
Real Life with Pastor Steve
January 13, 2023
"It makes little difference how fast you are in the 100 meters when the race is 400 meters long." - George MacDonald, late 1800's Scottish author & poet.
Got endurance? Many of us are great starters. We start college… we start a marriage … we start having children… we start saving our money … we start making right choices in life.
We start… but do we finish? Do we enter into it with a 100 meter mindset when the race is 400 meters long? When it gets tough, do we bail out?
Life gets complicated. Bills pile up. The ideals of our youth get tempered with cold-hard reality and unmet expectations.
At that moment we are left with a choice – to continue on and endure to the end, or simply give up.
Author, John Eldredge says, "If you look around, you will see that most people have abandoned the journey. They have lost heart."
In Paul's letter to the Colossians, he writes, "we pray that you may…be strengthened with all power so that you may have great endurance"
Don't give up! The race is not over. You can make it! Whatever your year looks like ahead of you… I pray that Christ will give you His power to strengthen you, and give you the endurance you need… to finish the race. Don't just start well, end well. And that's…real life. ~ Pastor Steve Rowe – Eaglebrook Church
Eaglebrook Church
A Non-denominational fellowship – EaglebrookMinocqua.org
Sundays 10:00 a.m. @ 1025 Margaret Street in Woodruff
715-356-3313 –