Real Life – February 18, 2022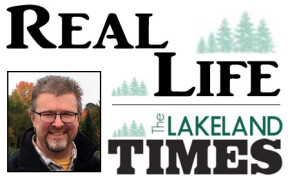 Real Life -- Lakeland Times -- February 18, 2022
Real Life with Pastor Steve
February 18, 2022
This is my prayer for you: that your love will grow more and more; that you will have knowledge and understanding with your love; that you will see the difference between good and bad and will choose the good; The Apostle Paul, letter to the Philippians
When I stop to think about the most important things… things that really make a difference… things I want people to know… things I want to pray for in the lives others… this list is a pretty good place to start.
When I read this, I think of my children… I think of my church family… I think of this community. Sure, there are other things we could add to the list, but if it does not start here, then in the end, it really does not matter.
May you grow in love. And not just in your capacity, or how you show it, but in knowledge and understanding of where true love comes from… from our Heavenly Father. That puts love into context. That creates our foundation.
Then added to that is wisdom. We need wisdom to know right from wrong. Then we need the strength to follow through, to do what is right. We've all made the wrong decision at times… and we know how that turns out.
This is a prayer that desires God's best for someone. This is a prayer that I desire for you. May it be a prayer you desire for others. And that's … real life. ~ Pastor Steve Rowe – Eaglebrook Church
Eaglebrook Church
A Non-denominational fellowship – EaglebrookMinocqua.org
Sundays 10:00 a.m. @ 1025 Margaret Street in Woodruff
715-356-3313 –