Real Life - February 16, 2018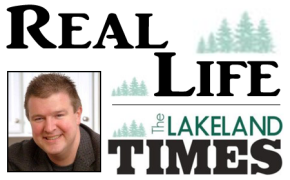 Real Life -- Lakeland Times -- February 16, 2018
Real Life with Pastor Steve
February 16, 2018
Do not be deceived: "Bad company ruins good morals." ~ The Apostle Paul (I Corinthians 15:33 – ESV)
We hear all the time, "you are what you eat." If you eat healthy, you will be healthy. If you eat only junk food, your body will feel like… junk.
The same is true about our relationships with people. We are… who we hang around. Some people are toxic, and have nothing but a negative influence on us.… the more you are around them, the more toxic you become. It could be an attitude, a lifestyle without restraint, someone who's always pushing the limits, someone who constantly disrespects authority, and someone who influences those around them to do the same. That kind of "company" will ruin… corrupt… good morals and good character. First, individually, then it spreads like a virus.
If that describes our closest allies and friends, then we will eventually become just like them.
However, if that is true in the negative sense, it is also true in the positive sense. Good company will build up, enhance… good morals and good character. They will encourage you to be a better person… a "Godly" person - a person who looks like Jesus. Folks, we often do not get a choice on who we work with, work for, or run into at the store or school functions, etc. But you can choose your friends. Choose your closest companions wisely. And that's … real life. ~ Pastor Steve Rowe – Eaglebrook Church
Eaglebrook Church
A Non-denominational fellowship – EaglebrookMinocqua.org
Sundays 10:00 a.m. @ 1025 Margaret Street in Woodruff
715-356-3313 –