Real Life – February 11, 2022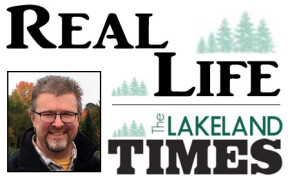 Real Life -- Lakeland Times -- February 11, 2022
Real Life with Pastor Steve
February 11, 2022
"Grace and peace to you from God the Father and the Lord Jesus Christ" ~ the Apostle Paul
That is how Paul starts off nearly all his letters. Grace and peace – can you think of two things our world needs more?
…Ok, so the world's a big place… can you think of two things that you need more?
There seems to be an overabundance of pain in the world, and the way we often treat people around us only adds to it. We're imperfect, broken people… in need of grace. But we pretend we're not broken… and quite often, do not show grace.
But what if we acknowledged our brokenness? What if we realized that God Almighty loves us, and desires to give us His grace & peace? What if we realized… that He then wants us to be instruments of grace and peace?
Folks, in this fallen world, God's grace or peace may not change your circumstances, but they can hold you together through the circumstances.
God knows what makes you anxious and keeps you up at night. Would you rest in His peace, be covered by His grace… and then begin to extend that to others. Let's make it more than a start to a letter. Let's make it our heart-felt desire for everyone we come into contact with. Grace… and peace… to you! And that's … real life. ~ Pastor Steve Rowe – Eaglebrook Church
Eaglebrook Church
A Non-denominational fellowship – EaglebrookMinocqua.org
Sundays 10:00 a.m. @ 1025 Margaret Street in Woodruff
715-356-3313 –