Real Life - February 1, 2019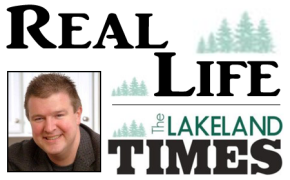 Real Life -- Lakeland Times -- February 1, 2019
Real Life with Pastor Steve
February 1, 2019
When something that should be the safest and most loving place… becomes a place of pain, injustice, division, and contempt… something has gone seriously wrong.
For many of you, you can point out very specifically what that means to you. For many, that brings to mind your family… or maybe families you know. Those are the places where everyone should feel safe and loved, but quite often it turns into quite the opposite. And people deal with that trauma the rest of their lives.
For others, it may bring to mind your church experience. What should be a place that reflects the heart and character of Jesus, often looks nothing like it, and people walk away wounded, discouraged, and quite often, worse off then when they went in.
As the Apostle Paul wrote his 1st letter to the Corinthians, he had to address that kind of behavior. It was bad enough that the church was acting that way in general, but they were doing so whenever they took the "Lord's Supper"… missing the point altogether. Paul's point was that regardless of what your tradition is for communion… may it be a safe place… a loving place. A place where divisions cease. A place where social status and wealth does not matter. A place that says… "you are welcome at the Table." And that's … real life! ~ Pastor Steve Rowe – Eaglebrook Church
Eaglebrook Church
A Non-denominational fellowship – EaglebrookMinocqua.org
Sundays 10:00 a.m. @ 1025 Margaret Street in Woodruff
715-356-3313 –