Real Life - December 28, 2018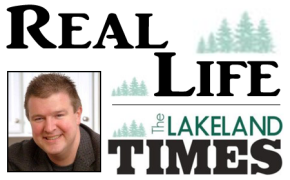 Real Life -- Lakeland Times -- December 28, 2018
Real Life with Pastor Steve
December 28, 2018
"What if God was one of us?"~ song lyric from Joan Osborne, recording artist.
God … one of us? The song seemed to capture a nerve in1995 as it shot into the top 40. Most of our views about God keep Him at a distance. He's perfect, we're not… He's in heaven, we're down here on earth… He's uninterested in our pain, our life, our world.
God… one of us? We need to ask… is it possible our views about God are all wrong? Is it possible that He does care, that He loves us and wants to know us and for us to know Him? Yes.
Matthew, a first century tax collector, knew firsthand the answer to those questions. He pens this encouragement from an angel to a young man named Joseph, "The virgin will be with child and will give birth to a son, and they will call him Immanuel" – which means, "God with us." God… one of us!!! Yes!
Many of you may still be struggling with the notion of how to relate to a holy God. The answer is the heart and the essence of Christmas.
The Christmas season may be almost over, but its truth is everlasting. Come this Sunday to here guest speaker Chad Rich – 20 year staff member at Fort Wilderness, speak on that very topic – God with us! And that's…real life. ~ Pastor Steve – Eaglebrook Church
Eaglebrook Church
A Non-denominational fellowship – EaglebrookMinocqua.org
Sundays 10:00 a.m. @ 1025 Margaret Street in Woodruff
715-356-3313 –