Real Life - December 24, 2021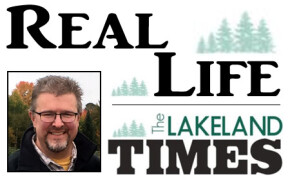 Real Life -- Lakeland Times -- December 24, 2021
Real Life with Pastor Steve
December 24, 2021
What do you do… on the day… or the days immediately AFTER Christmas?
Many of you may travel home. Many of you may be spending a few more days out of town with family over Christmas.
Others of you are home, with either a pile of people in your house from out of town, or maybe it's all quiet and they've just left.
For us, we always take our kids to the mall. Yeah, I know it sounds crazy. But it's the best time to exchange things that don't fit, or spend any gift cards they received from grandparents.
Ok, so what about the week in between Christmas and New Years? College football bowl season, maybe? A lighter week of work? New Years parties? Then a slingshot into the new year? Well, the days after the first Christmas give us a bit of inspiration. On day 8, Jesus gets circumcised. Ouch! But… it's a symbol of God removing the sin from our lives, and setting us apart for Him. Much better. And on day 40, Mary & Joseph take Jesus to Jerusalem, where two people – Simeon and Anna, affirm that He's the Messiah… they thank God… and they find true joy. It's easy by day 40 after Christmas to lose your joy. This year, may it be different. May thank Him, and live in His joy year-round. Have a blessed and Merry Christmas! And that's … real life. ~ Pastor Steve Rowe – Eaglebrook Church
Eaglebrook Church
A Non-denominational fellowship – EaglebrookMinocqua.org
Sundays 10:00 a.m. @ 1025 Margaret Street in Woodruff
715-356-3313 –