Real Life - December 17, 2021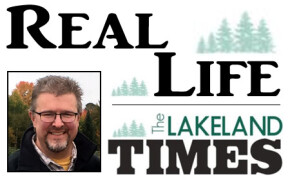 Real Life -- Lakeland Times -- December 17, 2021
Real Life with Pastor Steve
December 17, 2021
For many of us, the Christmas season is full of traditions… both new and old… that create a link from the past to the present.
How many of you here have some kind of family tradition, especially at the holiday season… from Thanksgiving to Christmas to New Years? Maybe it's putting up ornaments together… having a certain meal on a certain day, watching football… watching your favorite Christmas movie(s) … going through an Advent Calendar…making cookies… singing certain songs… spending time with family… maybe even serving the poor in some way. I love Christmas traditions.
Well, in a very real way… as we celebrate the birth of Jesus… He came to give us a "new tradition." Jesus came to give us a new way to live that would be the identifying factor that we were part of His family. Love.
There is a line in the song "O Holy Night" that says, "Truly He taught us to love one another. His law is love, and His gospel is peace." In His adult life, Jesus said, "A new command I give you: Love one another. As I have loved you, so you must love one another." As we celebrate the Advent of Love, may we celebrate it as a tradition that Jesus wants us to carry on now, and for years to come! And that's … real life. ~ Pastor Steve Rowe – Eaglebrook Church
Eaglebrook Church
A Non-denominational fellowship – EaglebrookMinocqua.org
Sundays 10:00 a.m. @ 1025 Margaret Street in Woodruff
715-356-3313 –