Real Life – August 5, 2022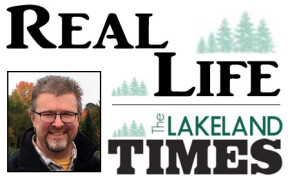 Real Life -- Lakeland Times -- August 5, 2022
Real Life with Pastor Steve
August 5, 2022
"Too many people spend money they haven't earned, to buy things they don't want, to impress people they don't like." Will Smith, Actor
Impressions are very important to us, aren't they? As children, we want our parent's approval… so we say things like, "look at me, look at me!" And it's cute, and it's appropriate for a child – they simply want to know they are important to their parent… that they matter.
However, seeking approval by the outward things we do is a sign of immaturity, not of maturity. It's awesome for kids… but it's not-so-awesome for adults. But some of us never grow up.
As adults many of us still try to impress others by what we wear, or what we drive, or the house we have, or even the church we attend.
In the religious world, we have other means to impress people… or God. We can point to the rules we follow… or how much we give to the needy… to give at least the appearance of piety and holiness.
Yet Jesus taught us – impressions are pretty worthless. God already loves and accepts us, and people simply need His touch. A heart changed by Christ leaves impressions behind. Explore that with us this Sunday!
And that's …real life. ~ Pastor Steve – Eaglebrook Church
Eaglebrook Church
A Non-denominational fellowship – EaglebrookMinocqua.org
Sundays 10:00 a.m. @ 1025 Margaret Street in Woodruff
715-356-3313 –