Real Life - August 30, 2019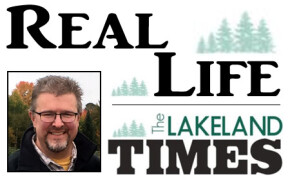 Real Life -- Lakeland Times -- August 30, 2019
Real Life with Pastor Steve
August 30, 2019
Jesus wept… ~ The Gospel of John, chapter 11
It's the shortest verse in the Bible. Two words. If you are looking for a quick verse to memorize, this would be the one!
What pictures do you get when you read those words? A little misty-eyed Jesus, or a singular tear running down his cheek. The word actually means He "wailed in sorrow."
We have to ask ourselves the question… why is Jesus crying to begin with? Well, looking at the context, one of His good friends, Lazarus died four days earlier. Jesus just arrived at the funeral. That would explain part of it.
But as you read the rest of the story, we find that Jesus raises Lazarus from the dead – not your typical party trick. This is real power, real authority, God-in-the-flesh-kicking-death's-butt kind of authority.
Which makes me ask again… why would he be crying if He knew He was going to raise Him in a few minutes anyway?
In a nutshell, it's because Jesus is a God who is not distant from our pain, He feels it the way we do. He enters into our pain, and He grieves over the root cause of our pain. But not as someone who is wringing His hands in powerless sorrow, but someone about to raise the dead to life.
That's what we're going to explore this Sunday. And that's …real life. ~ Pastor Steven Rowe – Eaglebrook Church
Eaglebrook Church
A Non-denominational fellowship – EaglebrookMinocqua.org
Sundays 10:00 a.m. @ 1025 Margaret Street in Woodruff
715-356-3313 –