Real Life – August 26, 2022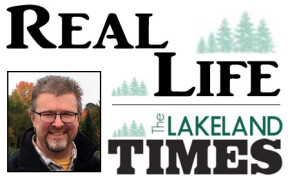 Real Life -- Lakeland Times -- August 26, 2022
Real Life with Pastor Steve
August 26, 2022
Worry often gives a small thing a big shadow. ~Swedish Proverb
What causes you to worry these days? What heightens your sense of anxiety?
We all go through seasons of life where worry seems to dominate our thinking. It's a common human tendency.
We worry about relational issues, financial issues, health issues, global issues. We walk ourselves through several "what if" scenarios… as if we can solve them simply by "worrying" about them.
See, whether we are worried about paying for our children's college education, or simply putting food on the table tomorrow night… whether we are worried about the effects of natural disasters, or why someone hasn't returned our call… the effects are the same.
Quite often worry leads to fear, then panic, then making an irrational decision which just compounds the issue. Others become fatalists and take a "don't care" posture. But tell me… are either of those reactions healthy?
Jesus did not sidestep the issues that cause us anxiety. The life He invites us into actually calls us to care more, not less… but without the stifling anxiety. A life without worry. Come explore that with us this Sunday.
And that's…real life. ~Pastor Steve – Eaglebrook Church
Eaglebrook Church
A Non-denominational fellowship – EaglebrookMinocqua.org
Sundays 10:00 a.m. @ 1025 Margaret Street in Woodruff
715-356-3313 –