Real Life - August 2, 2019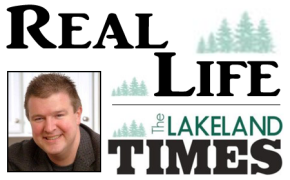 Real Life -- Lakeland Times -- August 2, 2019
Real Life with Pastor Steve
August 2, 2019
"Perception and reality are two different things." ~ Tom Cruise, actor
We are all limited by our own point of view.
Whether we are willing to admit it or not, we all see things through a filter. Our perspective will always be influenced or distorted by our own personal experiences. Like it or not, we are all biased.
Additionally, how we see things heavily influences how we choose to live and respond. If we perceive a situation to be dangerous, we will respond accordingly. The point being, we do not respond to how things really are… we respond to how we think things are. It is not reality, but our perception of reality, that affects everything.
This is all the more true when it comes to how we view God. If we perceive God to be a harsh and demanding figure, who is eager to pounce on us in judgment the moment we step out of line, that will cause us to live and behave one way. However, if we perceive God to be a God who is truly for us, and not against us… the kind of God who is rooting us on every step of the way… that will cause us to live very differently.
So, the real question is – what is God like? Because, like it or not, how we answer that question will heavily influence how we live and who we become. And that's… real life. ~ Arnie Boedecker on behalf of Pastor Steve Rowe – Eaglebrook Church
Eaglebrook Church
A Non-denominational fellowship – EaglebrookMinocqua.org
Sundays 10:00 a.m. @ 1025 Margaret Street in Woodruff
715-356-3313 –