Real Life - April 9, 2021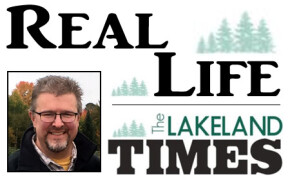 Real Life -- Lakeland Times -- April 9, 2021
Real Life with Pastor Steve
April 9, 2021
"I'm still learning." ~ Michelangelo at age 87
Well, here we are… the week after Easter. On Easter Sunday, we celebrate the resurrection of Jesus. After having been crucified, giving His life for the sins of the world, Jesus' dead body is removed from the cross, and laid in a tomb. And then, three days later, the tomb is empty. Jesus is alive again.
If you are at all familiar with the Jesus-tradition, you know the story. Having been raised in a Christian home myself, I had been exposed to this story from very early on. And yet, for all my years hearing this story, I was surprised to discover that I had missed the real point of Jesus' resurrection.
For most of my life, I had thought that the point of the Easter Story was about getting into Heaven. That if we would only put our faith in Jesus, who had died for our sins, we would go to Heaven when we died. But while this is certainly true (those who put their trust in Jesus do have the assurance of going to Heaven when they die), that has nothing to do with resurrection.
Resurrection is not about going to Heaven, or about the ongoing existence of our souls after death… resurrection is about the reversal of death, the undoing of death. Resurrection is about our life being restored.
This opened my eyes to the idea that salvation is not just about us going off to Heaven, but that one day, Heaven would ultimately come here.
And that's… real life. ~ Arnie Boedecker on behalf of Pastor Steve Rowe – Eaglebrook Church
Eaglebrook Church
A Non-denominational fellowship – EaglebrookMinocqua.org
Sundays 10:00 a.m. @ 1025 Margaret Street in Woodruff
715-356-3313 –