Real Life - April 5, 2019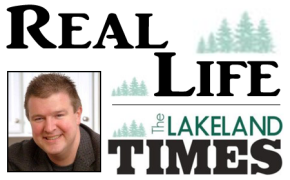 Real Life -- Lakeland Times -- April 5, 2019
Real Life with Pastor Steve
April 5, 2019
Many of us want to leave a legacy… something beyond ourselves… something that will last. May that simply begin… with love.
As you get older, the scenery changes. Life begins to look differently. You are reminded of what things really matter, and what things do not. And if you are like me, you begin to wonder if you've made any real difference in the lives of others, or in this world.
There are so many things over the course of our lives that we chase after, or that we place an inflated amount of importance on, only to find out in the end, it was often a colossal waste of time and/or resources. So many of us throw ourselves into some form of serving, of giving back. And that is a good thing, but it should be the result of something deeper – not as an end unto itself.
And that something deeper, that something more permanent, the thing that lasts, the Apostle Paul tells us in 1 Corinthians 13… is love. The effects of the type of love described in that chapter carry on, literally, forever… into eternity. We may think that being patient or kind, showing grace and mercy… being content… giving people the honor they deserve, and not dishonoring them in any way is too simple, not enough. But Paul says that in the end, the results of love are all that are going to last! And that's … real life! ~ Pastor Steve Rowe – Eaglebrook Church
Eaglebrook Church
A Non-denominational fellowship – EaglebrookMinocqua.org
Sundays 10:00 a.m. @ 1025 Margaret Street in Woodruff
715-356-3313 –