Real Life - April 12, 2019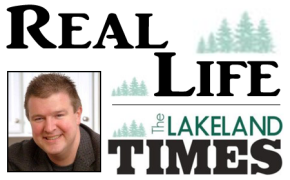 Real Life -- Lakeland Times -- April 12, 2019
Real Life with Pastor Steve
April 12, 2019
"Nobody has ever tried anything like this before…" "That's why it's going to work!" ~ Trinity & Neo from the movie, "The Matrix"
There's a phrase that's been around a long time which says "that's just crazy enough to work!" The seemingly impossible… turns possible. Hopelessness … turns to hope on a dime.
We can point to many discoveries or inventions – electricity, flight, the automobile. New territory into the unknown, to reach for a vision only known within the mind of its inventor. Crazy… foolish… a stumbling-block to the rational mind.
But there's something else, much more radical… even more crazy than that. It's a rescue mission of epic magnitude. A King… whose land has been taken over by hostile forces… whose people are in slavery and bondage… comes in to set them free. But in the most unconventional of means… with a crazy idea.
This King is God. The idea… dying on a wooden torture device in the 1st century called a "cross"… then raised to life again in three days.
That's crazy… that's foolish… that's such an affront to our rational mind… but it's crazy enough it just might work. Actually, the scriptures tell us that it did work. Come explore that with us this Palm Sunday!!! And that's…real life. ~ Pastor Steve Rowe – Eaglebrook Church
Eaglebrook Church
A Non-denominational fellowship – EaglebrookMinocqua.org
Sundays 10:00 a.m. @ 1025 Margaret Street in Woodruff
715-356-3313 –