Real Life - October 25, 2019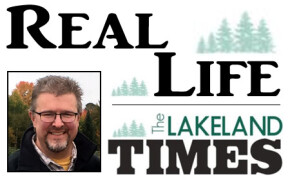 Real Life -- Lakeland Times -- October 25, 2019
Real Life with Pastor Steve
October 25, 2019
Forgiveness is a two-way street: by releasing the other person from guilt, you release yourself from being crippled by their actions. ~ NT Wright, scholar
We are masters at re-runs, aren't we? Many of us love to watch shows over and over again. Entire networks have been created for us to watch shows that have been off-air for years. And that's great … for tv shows. That's not so great, when we replay the events behind our deepest wounds and scars, and the people that put them there. The re-runs play often in your mind, leaving you crippled to a degree, unable to move on.
But that is no way to live. Held captive by a re-run. It's time to start over. New hopes, new possibilities, new life. But it starts with forgiveness – whether or not the other person ever acknowledges their wrong. Because the person set free is you. The person healed is you.
That's where reconciliation can be made possible… where love can begin. That moves you past the place of merely existing, and you start to rebuild. That's what the Apostle Paul had to do, along with the folks he wrote in the early part of 2 Corinthians 2.
Love… and forgiveness… those are two of the ways we can walk with grace in a very difficult world. And that's …real life. ~ Pastor Steven Rowe – Eaglebrook Church
Eaglebrook Church
A Non-denominational fellowship – EaglebrookMinocqua.org
Sundays 10:00 a.m. @ 1025 Margaret Street in Woodruff
715-356-3313 –