Real Life – November 3, 2023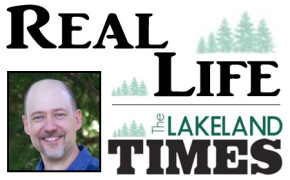 Real Life -- Lakeland Times -- November 3, 2023
Real Life with Pastor Arnie
November 3, 2023
"Expectations are resentments under construction." – Anne Lamott
How often do things in life go exactly as we planned or hoped? Not very often. Life has a way of throwing surprises at us on a regular basis. So little seems to be under our control, and it can be easy to become frustrated and disappointed when so little ever seems to go as we expected.
But what is the correct response to this? Should we simply lower our expectations to the point that we will never be disappointed, because we always expect the worst? Should we stop caring at all?
God calls us to embrace another way. While very little is under our control, and we can easily become discouraged because of that, God invites us to put our trust in Him. God invites us to see that He is good, and that He has everything under control. While there is currently a great deal of brokenness in this world, God has promised to set things right. God wants us to see that one day, He will restore all things. And so, no matter what happens, we can trust that He's got things under control.
Instead of going through life with constant expectations, that always seem to fall apart… God invites us to walk through life with Him. Rather than living with expectations, God invites us to live life with a sense of expectancy… with a sense of wonder and anticipation, because with God in control, anything is possible… And that's …real life. ~ Arnie Boedecker, Associate Pastor – Eaglebrook Church
Eaglebrook Church
A Non-denominational fellowship – EaglebrookMinocqua.org
Sundays 10:00 a.m. @ 1025 Margaret Street in Woodruff
715-356-3313 –