Real Life – November 25, 2022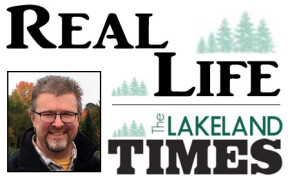 Real Life -- Lakeland Times -- November 25, 2022
Real Life with Pastor Steve
November 25, 2022
What … and who… are you thankful for?
As we celebrate Thanksgiving this weekend, it's a great time to pause… take note of the many blessings each of us have… and express our thankfulness. First, I thank God for just who He is, and all He has done through Jesus. I thank Him for His mercy, grace, and unconditional love. I thank Him for second chances, new beginnings, fresh starts.
I am thankful for my wife and my children. I am thankful for the gift of adoption and foster care. Life is incredibly challenging and hard, but I am grateful for the opportunity. And I am so thankful to see these young people grow.
I am thankful for the Eaglebrook family. Your kindness and generosity, not only to me, but to this community, continues to bless me.
I am thankful for Heather and the crew at the Lakeland Times, along with those who made this year possible for us. We are richly blessed.
I am thankful for kind-hearted, compassionate, and generous people. I am thankful for laughter, good friends, a warm meal, a glistening snow, a beautiful song, a cup of coffee. I am thankful for rest. All that, and I'm just getting started. I want to practice everyday thankfulness. So… what … and who… are you thankful for? Would you take time to share that, and tell them? Have a blessed Thanksgiving weekend! And that's…real life. ~Pastor Steve – Eaglebrook Church
Eaglebrook Church
A Non-denominational fellowship – EaglebrookMinocqua.org
Sundays 10:00 a.m. @ 1025 Margaret Street in Woodruff
715-356-3313 –