Real Life - November 12, 2021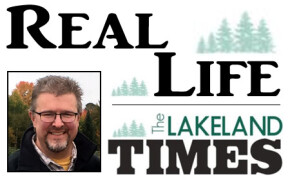 Real Life -- Lakeland Times -- November 12, 2021
Real Life with Pastor Steve
November 12, 2021
Equip – to supply with the necessary items for a particular purpose. Empower – give someone the power and authority to do something.
Two important values… two important ways that humanity grows and can become better. A good education… tools … training in skills and disciplines… mentoring and apprenticeships… opportunities to learn from one's mistakes… these are all ways to equip and empower people.
A rising ride raises all boats, someone once said. We all get better when we help others, equip others, and empower others. But… as Jesus taught us, there's a foundational piece from which we need to start. Jesus starts with equipping our character first … who we are. Because, without Godly, moral character and integrity… all the equipping and empowerment in the world won't make a difference. It actually continues to hurt those who are most vulnerable.
See, Jesus wants to equip us and empower us… through His Spirit, and through His Word… for every good work (says the Apostle Paul). In other words… to become and live as… a good person. May we start there. Then, may we build onto that in other areas… seeking also to equip and empower others along the way. It will make the world a better place. And that's … real life. ~ Pastor Steve Rowe – Eaglebrook Church
Eaglebrook Church
A Non-denominational fellowship – EaglebrookMinocqua.org
Sundays 10:00 a.m. @ 1025 Margaret Street in Woodruff
715-356-3313 –