Real Life - June 7, 2019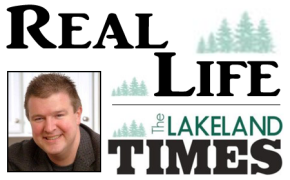 Real Life -- Lakeland Times -- June 7, 2019
Real Life with Pastor Steve
June 7, 2019
"Most people want to change the world to improve their lives, but the world they need to change first is the one inside themselves." John Maxwell, author
What is the darkest season of your life? Have you felt the disgust, the angst, the despair of living there… but drawn back to it all at the same time? Here's another thought… when you look at the circumstances of life that you're in, or the kind of person that you've become… is your first tendency to blame someone else for it?
Two thousand years ago, Jesus came across a man who may have been dealing with those very thoughts. This man had been crippled for thirty eight years. How? We're not told.
But Jesus asks a very strange question to this man… He asks, "Do you want to get well?"
Like many of us, this man had developed a coping mechanism to deal with his problems. He may have had people to blame, he may have become addicted to his condition.
Getting well means change, getting well means taking responsibility, getting well means I can't complain anymore. Maybe deep down inside, we don't want to get well. Which is why Jesus asks the question.
Your life won't improve if someone else changes or if the world around you changes. Your life improves when you change. And that's … real life. ~ Pastor Steve Rowe – Eaglebrook Church
Eaglebrook Church
A Non-denominational fellowship – EaglebrookMinocqua.org
Sundays 10:00 a.m. @ 1025 Margaret Street in Woodruff
715-356-3313 –