Real Life – July 29, 2022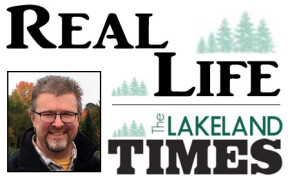 Real Life -- Lakeland Times -- July 29, 2022
Real Life with Pastor Steve
July 29, 2022
"You never know what's around the corner. It could be everything. Or it could be nothing. You keep putting one foot in front of the other, and then one day you look back and you've climbed a mountain." – Tom Hiddleston, British actor
And Tom would know something about that. When he was cast as the character of "Loki" in the Marvel Universe, he had no idea how many years this character would extend and impact his career. But one step made all the difference.
None of us know what is around the corner in our lives. But as followers of Jesus, we don't have to… because He does. Jesus knows. He's already there. We can trust that whatever happens, He will be there to guide us, lead us, comfort us, and encourage us.
However, it requires making the best possible choices in the "now"… planting seeds for the best possible harvest in the future. It may… or it may not happen. We just have to put that one foot… in front of the other… and keep walking.
This Sunday, we get to hear from Beth Mabry, someone who has had to do just that over the last 6 years. Beth is one of our missionaries… who has literally put one foot in front of the other… in faith… not knowing what was around the corner. May her story be inspiring to all of us. And that's …real life. ~ Pastor Steve – Eaglebrook Church
Eaglebrook Church
A Non-denominational fellowship – EaglebrookMinocqua.org
Sundays 10:00 a.m. @ 1025 Margaret Street in Woodruff
715-356-3313 –