Real Life - July 26, 2019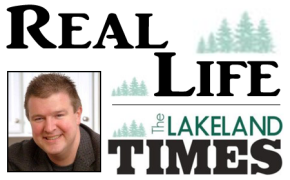 Real Life -- Lakeland Times -- July 26, 2019
Real Life with Pastor Steve
July 26, 2019
So you are no longer a slave, but God's child; and since you are his child, God has made you also an heir.~ The Apostle Paul
Imagine if you had the last name "Hilton," or "Rockefeller." More specifically, if you were a child or a grand-child, you are pretty well set up for an inheritance, right? Most of us just drool at the thought of having that much wealth just being passed down some day.
But I've got news for you. There's an inheritance that's waiting for all of us that would dwarf all of those fortunes put together.
Unfortunately, most of us live in relation to that fortune the same way we live in relation to the "Hilton" fortune… distant, non-realistic, and without any effect on how we live our daily lives.
That inheritance… that "fortune" if you will… is connected to being a child of Creation's creator, to God Almighty.
However, most of humanity seems quite content to live as a slave… either as a slave to our fallen condition… or… a slave to religion. Either way, it falls way short of living as a son or daughter of the "king."
The good news that Jesus came to bring is that because of His work on the cross, we are no longer slaves. It's time we stopped living like it. You are an heir… a child of the King! And that's … real life. ~ Pastor Steve Rowe – Eaglebrook Church
Eaglebrook Church
A Non-denominational fellowship – EaglebrookMinocqua.org
Sundays 10:00 a.m. @ 1025 Margaret Street in Woodruff
715-356-3313 –