Real Life - July 13, 2018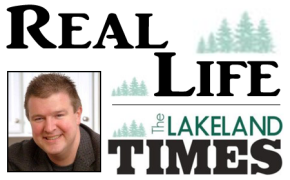 Real Life -- Lakeland Times -- July 13, 2018
Real Life with Pastor Steve
July 13, 2018
"You look like your dad…" ~ something my son heard a lot growing up
Eye color. Hair color. The shape of our eyes or our ears. It's part of our genetics. To one degree or another, we all tend to look like our biological parents. There is a family resemblance.
In the same way, the Scriptures often speak about how children of God are to resemble their Father in Heaven. If we are going to claim to love God and to follow God, it only makes sense that we should look like Him.
The problem is, people today seem to have very different ideas about what it means to be "godly". For some, godliness is about being religious, and being very involved in your local church. For others, it's about a list of rules, what you do and don't do. And for others, it's about what we believe, how we vote, and having all the right answers.
But for Jesus, it was about character. It was about how you lived, and how you loved. It was about showing mercy and kindness, even to those very different from you. It was about responding to hostility with grace. It was about stepping in to help those who could not help themselves. Instead of retaliation, children of God were those who would seek to overcome wrongdoing with goodness. It was about being a different kind of person in the world. Love was the only "family resemblance" that mattered.
And that's…real life. ~ Arnie Boedecker on behalf of Pastor Steve Rowe – Eaglebrook Church
Eaglebrook Church
A Non-denominational fellowship – EaglebrookMinocqua.org
Sundays 10:00 a.m. @ 1025 Margaret Street in Woodruff
715-356-3313 –